Microsoft Teams brings together people, conversations and content – along with the tools that teams need. It allows teams to easily collaborate so that they can achieve more.
Today, teams are more agile and organisational structures are flatter to keep communications and information flowing. With Microsoft Teams, you can create a more open, digital environment that makes work visible, integrated and accessible across the whole team.
Teamwork hub for Office 365
Microsoft Teams allows you to communicate in the moment, keeping everyone in the know. You can chat, call and have meetings with your team, as well as have private or small group conversations. Using Skype, you can schedule and join online meetings with VoIP or dial-in audio conferencing options.
Share files, apps or your desktop in online meetings and review the important moments later with recorded content.
Integration at its finest
Get access to everything you need right in Office 365, and manage conversations, files and tools all on one platform. Microsoft Teams brings together the full breadth and depth of Office 365 to provide a teamwork hub; Word, Excel, PowerPoint, SharePoint, OneNote, Planner, Power BI and Delve are all built in so people have all the information and tools they need, right at their fingertips.
Tailor Teams to suit you
Customise our Microsoft Teams workspace to include key cloud services, explore data and get updates from the apps your teams use every day. Since all teams are unique, Microsoft has invested deeply in ways for people to customise their workspace.
Create custom channels based on work streams or topics
Pin commonly used files and websites for easy reference
Add Bots that work on your team's behalf
Build custom integrations to your existing business processes with the Teams developer platform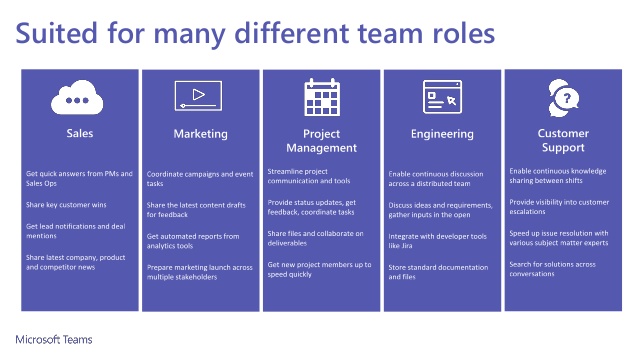 Enterprise-level security
Microsoft Teams is naturally integrated with the familiar Office applications and is built from the ground up on the Office 365 global, secure cloud. It provides the enterprise-level security, compliance and management features you expect from Office 365, including broad support for compliance standards, and eDiscovery and legal hold for channels, chats and files. Microsoft Teams encrypts data at all times, at-rest and in-transit, and includes multi-factor authentication to enhance identity protection. On-call support engineering is standing by for back-up anytime.
Microsoft Teams offers a modern conversation experience that supports not only persistent but also threaded chats. Skype is deeply integrated, so teams can participate in voice and video conferences. And everyone can add personality to their digital workspace with emojis, stickers, GIFs and custom memes to make it their own.
Office 365 is designed for the unique workstyle of every group and includes purpose-built applications, all deeply integrated together.
SharePoint provides intranets and content management solutions to more than 200,000 organizations and 190 million people.
Yammer is the social network for work, enabling cross-company discussions for 85 percent of the Fortune 500.
Skype for Business provides real-time voice, video and conferencing and hosts more than 100 million meetings a month.
Office 365 Groups is our cross-application membership service that makes it easy for people to move naturally from one collaboration tool to another.
If you are interested in Office 365, give our team a call today to discuss it with us – 03 211 0099.
Find out more about Microsoft Teams.
Relate articles
Email is becoming a more popular avenue for attacks on individuals and businesses. It's vital to take measures t...
There's no doubt that you have been told before "don't click on a suspicious link", but what happens when ...